Well it has been a while since I have posted, but I'm back as we start to get ready for the upcoming year. Graduation has passed at Ferrum, and while it seems like a long time from now, Kickoff will be here before you know it. Before I start looking ahead to this coming season, I want to take a quick look back at the 2016 season.
With the arrival of new coach Rob Grande on campus, hopes were high that Ferrum would have a successful season. It became apparent right away that Ferrum football had a different feel about it as it started the season with a win in the first installment of the Crooked Road Classic against Emory and Henry. This was an excellent game as Ferrum showed they had a flair for the dramatic as they trailed by 16 in the fourth quarter before tying the game 31-31 with 1:17 left. The Wasps ran the ensuing kickoff all the way back with a minute to go, but Ferrum was not done. Harvey Taylor hit receiver Johnny White for a touchdown, then Taylor took the ball in for the two point conversion......the third consecutive two point conversion of the game by Ferrum.
In that game Freshman running back Brian Mann made his college debut finishing the day with 168 yards, and two touchdowns. Mann's efforts over the year were some of the many bright spots during the season. The Freshman running back set the single season rushing record for the Panthers, rushing for 1453 yards, eclipsing a record that was set by Chris Warren, and had stood for 28 years.
Ferrum finished the season 6-4, and while a win against N.C. Wesleyan to end the season would have been nice, they were just too strong, and Ferrum was not able to slow their passing attack. All in all, this was quite a positive season, and if nothing else, they have left me excited for this season approaching.
Looking ahead, I think the main question is who will replace Harvey Taylor? While Tyler English saw a fair amount of action last year, its difficult to judge how prepared he is to take the reins......Here are his numbers from last season:
English appeared in 7 games, and rushed for 109 yards on 21 carries. He scored two rushing touchdowns, and his longest run was for 41 yards. In the passing department, English was 16 of 34 for 215 yards and one touchdown. English did not throw an interception.
In the receiving department, Ferrum has to fill the void left by graduating Senior Chris Guy. This leaves a hole in a receiving corps that seems low in numbers. Look for Johnny White and Nick Pearce to get quite a bit of playing time, along with Ne'Shaun Gill. The O-line loses two key players, and will need to fill those holes with some size and strength. Fortunately, there is good depth in this part of the roster.
Ferrum Continues To Build With Many Strong Recruiting Moves
When I look at those players that graduated, and the positions that are left vacant, and I also look at the previous seasons statistics, trying to determine where the weaknesses are.
There are a couple of things that jump off the paper right away. As I mentioned earlier, Ferrum's 2016 quarterback Harvey Taylor graduated, and who will replace him is not certain, but I do believe Tyler English has the inside track. Recruiting efforts have brought a couple of prospects to the roster this fall....more on that later.
I think Ferrum seems a little undermanned in the WR department, but a recruit out of Rustburg will likely help that situation.
On the defensive side of the ball, Ferrum needs to show huge improvement in the defensive secondary. Ferrum gave up an average of 253 yards per game through the air last season. This ranked them 7th in the conference.
Four interceptions last season ranked them 6th out of eight teams. Look for a recruit out of Menchville H.S. to help out in this area.
Linebackers may be hurting the worst after graduation. The team lost three linebackers, including Jabber Coward, and Tony Konieczka. There are still 7 scheduled to return this season. With an incoming freshman from Woodside H.S., and a recruit from Staunton River H.S. look for this unit to be young, but solid.
Getting back to the incoming quarterback recruits, Ferrum currently has 7 potential players listed as quarterbacks that could return. In addition to that, Ferrum is picking up Jacob Gravett out of South Paulding H.S. in Georgia, and Tyrez Welch out of Mayodan N.C. (McMichael H.S.) Both of these players have strong numbers, and will be a huge help for Ferrum. Please click the link below to read about Welch.
Tyrez Welch Commits to Ferrum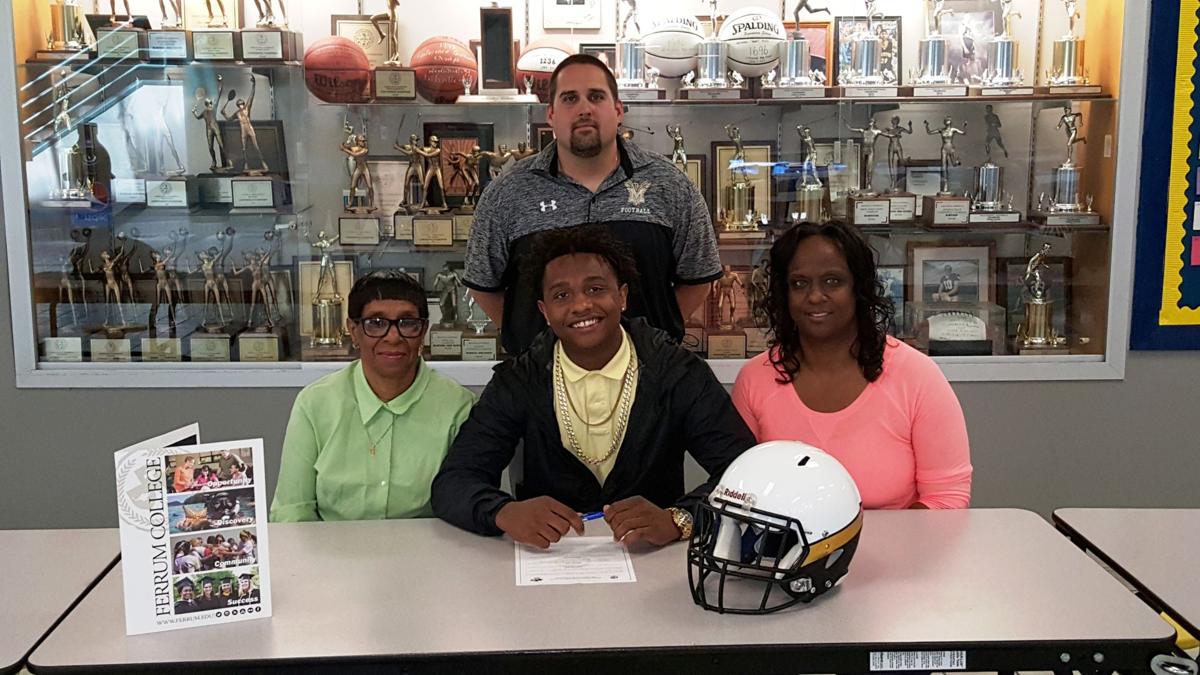 Welch signs to play at Ferrum.
While I was glad to see the numbers that Welch put up in his Senior year, I almost choked on my Cheerios when I saw this picture above.......Nice to see the future Panther have so much support around him.......but did you see that helmet? It looks black and gold and white......Even though it is a sharp looking helmet, surely, Ferrum did not change their helmet.....did they?
I wondered about this for a couple of days, until I thought the only way to know for sure was to call Coach Grande to try to get the scoop about the picture. We had a nice conversation about the upcoming season, but he assured me that the Ferrum helmet has not changed at all. Whew.....scared me for a second.
Below is a list of some of the incoming recruits for Ferrum:
James Turpin OL Douglas Freeman H.S. 6' 2" 285 lbs.
Shemar Butts Defensive Back Menchville H.S. 5'10" 160 lbs.
Kendall Bell LB/Safety Woodside High School 5'9" 180 lbs.
Isaiah Dixon CB/WR Rustburg H.S. 5'9" 160 lbs.
Davon Jones DT Rustburg H.S. 6'2" 245 lbs.
Thomas Sheets LB Staunton River H.S. 6' 235 lbs.
Jordan Thompson LB Staunton River H.S. 6' 210 lbs.
Jacob Gravett QB South Paulding H.S. 6'2" 170 lbs
Dashawn Robertson DT Dan River H.S. 5'10" 265 lbs.
Tyrez Welch QB McMichael H.S. 6'3" 200 lbs.
Most of these future Panthers have highlight films on MaxPreps.com, or Hudl. There is a lot to look forward to based on what I have seen and read.
This should be another exciting season. The impression I get is that Ferrum is building something special. They have taken great steps to address their deficiencies from last year, and I believe that with some time to mature and learn the system, and their roles and responsibilities, these incoming Freshmen will be part of something very special in the not too distant future. Be patient Black Hat fans, the roar is getting louder!